In brief
Ice melt: the loss of ice mass in response to warming. Ice loss near the poles from glaciers and ice sheets is one of the most significant contributions to global sea level rise; the largest single source is Greenland, with the island's losses increasing by the decade.
---
Satellite Gravimetry
The advent of gravimetric measurements with the twin GRACE satellites in 2002, along with more recent deployment of floating Argo sensors, opened the way to "closure" of the sea level budget—that is, when the sum of observed ocean mass and density changes equals total sea level change [Leuliette and Willis, 2011].
GRACE measures changes in water mass, including terrestrial storage in the form of groundwater, rivers, snow and ice, and mass changes within the ocean itself, as well as the movement of water between land and ocean.
Early attempts did not achieve closure of the sea level budget for four-year trend lines [Willis et al., 2008, Chang et al., 2010], leading to concerns about possible instrument drift. More recent efforts, however, led to reports of closure for more extended periods, including a NOAA report covering 2005 to 2013 ("The Budget of Recent Global Sea Level Rise, 2005-2013," by Eric Leuliette).
+ more
To capture changes in water mass accurately, shifts in atmospheric mass must be subtracted from GRACE's gravitational measurements—along with changes in the mass of ocean basins, the lingering rebound effect from the loss of Ice Age glaciers [Tamisiea and Mitrovica, 2011].
One approach to achieving a high-precision dataset is the mass concentration (mascon) method, which breaks up GRACE's gravitational measurements into discrete regions of higher mass. This allows more precise resolution of mass changes in smaller regions than more traditional "harmonic" solutions, which smooth gravitational measurements into a larger whole [Watkins et al., 2015].
---
Greenland & Antarctica
Ice loss near the poles is one of the most critical changes pushing sea levels higher, a conclusion supported by data of increasing weight and accuracy. Greenland's contribution to global sea-level rise is the largest, and increases every decade. Studies suggest that its melt grew from 0.09 millimeters per year between 1992 and 2001, expressed as the global sea-level rise equivalent, to 0.59 millimeters per year between 2002 and 2011 [Velicogna et al, 2014].
Measurements by the twin GRACE satellites (Gravity Recovery and Climate Experiment) show that most of the losses between 2003 and 2013 were coming from the southeast and northwest portions of the island, while the southwest is responsible for more than half of the acceleration of ice loss. The estimated total loss is in the range of more than 200 to more than 300 gigatons per year (1 gigaton is approximately 264 billion gallons of water. Melting 365 gigatons of ice would add 1 millimeter to global sea level; there are 25.4 millimeters in an inch). It is essential to understand, particularly on these short time scales, what part of the mass loss is due to changes in precipitation and surface melting and what part to changes in glacial discharge.
+ more
The measurements show that the pace of ice loss in Antarctica, while more moderate, remains sizable. Although East Antarctica has little mass loss, West Antarctica's is significant. The Amundsen Sea region and the Antarctic Peninsula, both in West Antarctica, account for 64 percent of the total, some 180 gigatons per year between 2003 and 2013 (a loss offset by mass gains in East Antarctica, for a total loss for the continent of 67 gigatons per year [Velicogna et al, 2014]). And the Amundsen Sea area was the dominant contributor to the acceleration of ice loss, which increased about 11 gigatons each year.
Antarctica's contribution to sea-level rise increased from 0.08 millimeters per year between 1992 and 2001 to 0.40 millimeters per year between 2002 and 2011 [Velicogna et al, 2014]. Together, Greenland and Antarctica contribute about one third of present-day sea level rise [Chen et al., 2013].
A 2012 study relying on altimetric, interferometric and gravimetric satellite data, as well as modeling [Shepherd et al., 2012], found that the Greenland ice sheet lost 142 gigatons per year between 1992 and 2011, though with an uncertainty of 49 gigatons per year. The same study saw 71 gigatons of ice loss in Antarctica, also with a large uncertainty factor. That adds up to a polar ice-sheet contribution of about 0.59 millimeters of sea-level rise per year for the study period.
And a recent reprocessing of GRACE data [Watkins et al., 2015] found 289 gigatons per year of ice-mass loss for Greenland between 2002 and 2014, and 141 gigatons for Antarctica.
Another study [Rignot et al., 2014] found a rapid rate of retreat for Amundsen Sea glaciers between 1992 and 2011, with their grounding lines, which separate ice on bedrock from floating ice, receding from 10 to 35 kilometers. These authors concluded that the ice retreats along regions of "retrograde bed elevation"—where the bedrock slopes downward, and farther away from the grounding line, in the inland direction. Ice-sheet numerical models find this configuration to be unstable.
Yet Antarctica illustrates the ability of broad-scale averaging to mask highly variable rates of change across regions. Some parts of the frozen continent, shielded by isolation and deep cold, are seemingly impervious to global warming—at least for the present. Queen Maud Land in East Antarctica even appears to be gaining ice mass—some 63 gigatons per year from 2003 to 2013 [Velicogna et al, 2014]. While not enough to overcome the continent's net loss of ice, such gains do show that some regions can manage a shift toward higher ice mass, due to greater precipitation and fewer losses.
---
Airborne Measurements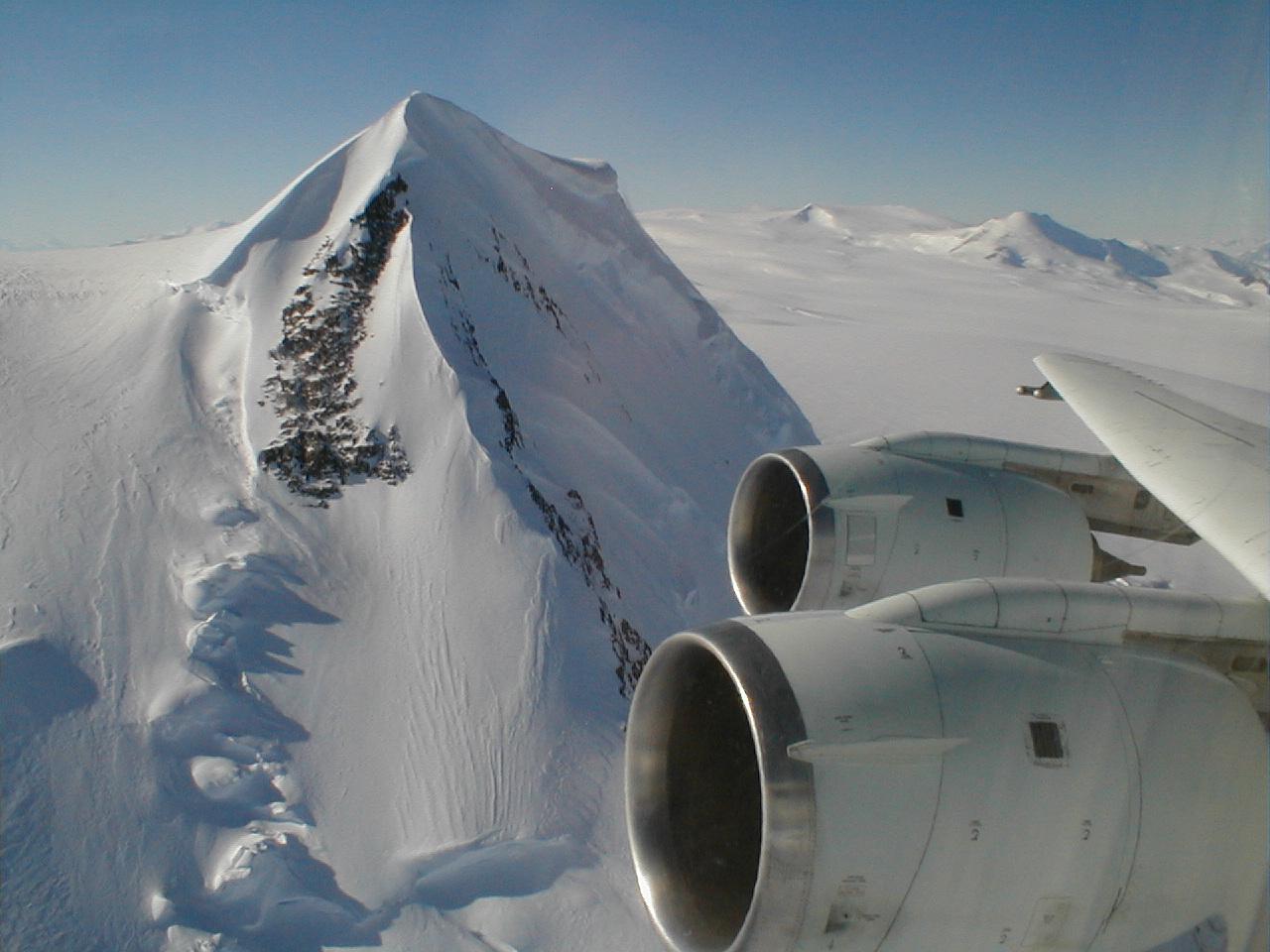 By the 1990s, laser altimetry from aircraft had revealed ice sheets thinning rapidly enough on Greenland's coastal margins to create an imbalance, as outlet glaciers lost ice mass to the ocean [Abdalati et al., 2001]. Later surveys, again using NASA's Airborne Topographic Mapper, showed those thinning rates had increased [Thomas et al., 2009].
The largest airborne survey of polar ice is known as Operation IceBridge, a NASA mission designed to plug the gap between ICESat, which ceased functioning in 2003, and the launch of ICESat-2 in September 2018. Researchers used data from these yearly surveys to reveal that the rate of ice discharge from the two fastest glaciers draining the Greenland and Antarctic ice sheets was increasing [Thomas et al., 2011]. The study also relied on data from NASA'S Airborne Topographic Mapper, as well as the University of Kansas ice-depth sounder, both of which had made almost yearly surveys since 1991 of the Jakobshavn Isbrae glacier in Greenland and, since 2002, of the Pine Island glacier in Antarctica.
+ more
Accurately gauging snow levels also is important to the larger picture. The Jet Propulsion Laboratory's Airborne Snow Observatory flies two instruments over the snowfields of the Sierra Nevada, which are critical to the state's water supply. An imaging spectrometer captures visible to near-infrared light to measure the albedo, or reflectivity, of the snowpack; the measurements are used to gauge how quickly the snow will melt (darker snow absorbs more radiation, and melts faster). The second instrument, a laser altimeter or lidar, measures snow depth by comparison against a "snow free" profile for the same areas, in order to determine snow depth and the snow-water equivalent within the snowpack [Bormann et al., 2014; NASA-ASO web site].
---
Radar Interferometry
Satellite synthetic aperture radar interferometry techniques measure the speed at which ice streams move, as well as the position of the grounding line, which separates ice grounded over bedrock from ice floating on the ocean from the same ice stream. One example of the power of this technique was the measurement of the retreat of Antarctic glaciers [Rignot et al., 2014]. The researchers used data from the ERS-1 and 2 synthetic aperture radar (different from the radar altimeters on the same satellites) from 1992 to 2011, finding rapid retreat for the Pine Island, Thwaites, Haynes and Smith-Kohler glaciers in West Antarctica. The differences among sets of radar altimetry measurements for the same time intervals—the "interference" of interferometry—allowed the researchers to compensate for tracking drift caused by the loss of gyroscopes in ERS-2 [Rignot et al., 2014]. The study included color-coded maps of the velocity of recession for the glaciers, which showed movement of the glacial grounding lines. The authors concluded that "this sector of West Antarctica is undergoing a marine ice sheet instability that will significantly contribute to sea level rise in decades to centuries to come," because the bed upon which the ice rests is "retrograde"—that is, it deepens going inland, toward the south.
The same interferometric techniques were used to map the seaward flow of networks of glaciers across the entire continent from 2007 to 2009 [Rignot et al., 2011].
---
Paleo Observations
As with ancient sea level, the collapse and regrowth of ice sheets over the ages can be measured using paleontological proxies. One intriguing study examined coral terraces that, because of tectonic uplift, had been thrust some 20 to 140 meters above present-day sea level in Papua New Guinea [Esat and Yokoyama, 2006]. The researchers linked the episodic rise and fall of sea level, between and 75,000 and 25,000 years ago, to alternating warm and cold periods during the last Ice Age, lasting roughly millennia but transitioning from one to another on the scale of decades. And these bouts of warming and cooling could be read in the patterns of coral growth on the uplifted terraces. The resulting sea level changes were attributed to the partial collapses, and later regrowth, of the Northern Hemisphere ice sheets, causing sea levels to rise, then fall.
The vertical position of coral on the terraces told the story: During periods of falling relative sea level, coral growth was spotty, while rising sea levels allowed the coral to build more robust colonies at higher elevations.
---
Satellite Altimetry
The early 1980s saw the very first attempt to measure ice sheets using satellite radar altimetry, with observations only of limited parts of Greenland and Antarctica [Remy and Parouty, 2009]. Since then, however, altimetry technology has become an important means of determining ice sheet and glacial mass balance—that is, the ledger of gains and losses in ice mass [Pritchard et al., 2010]. While the primary measurement is by laser altimetry (NASA's ICESAT and the upcoming ICESAT-2), with high accuracy and a very small footprint, radar altimetry also is used, starting with ESA-s ERS-2 ansd Envisat, and especially the recent ESA mission Cryosat-2, optimized for ice work.
+ more
Satellite altimetry tracks changes in ice-surface elevation, which, combined with other measurements and adjusting for vertical land motion and ice density, has revealed significant reductions in ice mass for the world's glaciers as well as for Greenland and at least a portion of the Antarctic ice sheet. Continuous surface-height measurements for nearly all of Greenland, and more than 70 percent of Antarctica, have been conducted since 1992, beginning with ERS-2 and ENVISAT [Pritchard et al., 2010], which were used to expand upon previous measurements showing accelerated thinning of the Pine Island glacier in West Antarctica [Wingham et al., 2009; Rignot et al., 2008].
Radar altimetry also played an important role in characterizing a series of measurable changes that contributed to the collapse of the Larsen A and B ice shelves in 1995 and 2002 [Scambos et al., 2000, 2003].
---
Modeling Ice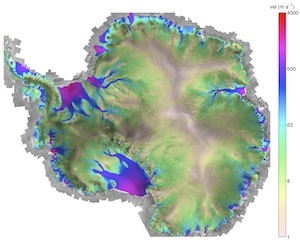 Ice sheet modeling is critical to any projection of future sea level rise, but remains in its early stages. Still, recent attempts to model surface mass balance of the Greenland and Antarctic ice sheets during the latter half of the 20th century agree well with observations—an important step in validating projections of future changes in mass balance and their sea level equivalent [Shepherd et al., 2012]. Such projections are typically derived from regional climate models or downscaled atmosphere-ocean general circulation models [Flato et al., 2013].
The Ice Sheet System Model (ISSM), an impressive tool developed in recent years, integrates data from a variety of sources to simulate the higher-order physics of ice flow, and to develop mass-balance projections for the Greenland and Antarctic ice sheets [Larour et al., 2012]. This high-resolution model, which includes three-dimensional capability, represents an improvement over previous "hybrid" models (these combine Shallow Ice Approximation and Shallow Shelf Approximation simulations with simplified ice-flow mechanics, but do not always capture ice sheets and ice shelves realistically). The ISSM was shown to model ice flow surface velocities in good agreement with observations for Greenland [Larour et al., 2012], and has been used to improve Antarctic ice-shelf velocity modeling [Larour et al., 2014].
+ more
For the Greenland ice sheet, a variety of models show no trend of statistical significance from the 1960s to the 1980s, then a significant trend toward an increasing contribution to sea-level rise beginning in the 1990s [Flato et al., 2013]. By 2011, Rignot et al. were using the Regional Atmospheric Climate Model (RACMO2) to show that changes in surface mass balance could account for roughly 60 percent of loss in ice mass since 1992 [Rignot et al., 2011, Flato et al., 2013].
Antarctic simulations come with greater uncertainty, inspiring among the authors of the latest IPCC report only medium confidence in modeling results for the late 20th century, including a RACMO2 estimate of a negative contribution to global sea level rise: minus 5.5 millimeters per year, plus or minus 0.3, between 1979 and 2000 [Lenaerts et al., 2012].
A recently published evaluation of Antarctic climate modeling by 20 experts [Bracegirdle et al., 2015] included a number of recommended improvements:
Elimination of large biases in positioning of the southern hemisphere mid-latitude tropospheric jet, which drives westerly winds, in CMIP 5 models, to better capture the effects of stratospheric ozone depletion and recovery.
Better modeling of clouds over the southern ocean.
Evaluation of energy fluxes over Antarctica in climate models, with the aim of developing a proper atmospheric energy budget.
Using reconstructions of paleoclimate to create more effective simulations of the relative warming rate over the southern continent, known as "polar amplification."
Reliably simulating connections between the tropical Pacific and Antarctica, especially the climatic effects of an expected eastward shift in southerly directed Rossby waves—a shift projected by most models.
The evaluation also recommended improved modeling of Southern Ocean circulation.