News
| December 21, 2022
In Savannah, a Sea Level Summit
The residents of Tybee Island welcome throngs of tourists who come for idyllic summers on the beach. Another visitor is less welcome: periodic floods due to sea level rise.
The low-lying island on the Georgia coast has seen homes flooded and demolished, as well as increasing "nuisance" or "sunny day" flooding. Islanders must regularly replenish sand on eroding beaches.
"You can't stop the floods, you can't stop the rains," said Shirley Sessions, mayor of the City of Tybee Island. "You can only learn how to adapt."
In late September 2022, dozens of researchers from NASA's Sea Level Change Team gathered in nearby Savannah for a kind of sea-level summit: a three-day exchange of data and ideas among scientists, coastal planners, federal, state, and local agencies, and resident activists. Their goal was to better understand the needs of coastal communities trying to fortify themselves against relentlessly rising seas in the years and decades to come. Much of the discussion centered on how best to translate scientific data into digestible forms for decision-makers, who must determine what to build – and perhaps what to abandon – as communities grow increasingly vulnerable.
Get NASA's Sea Level Change News: Subscribe to the Newsletter »
The story of Tybee is one that is repeated up and down the U.S. Eastern Seaboard, as well as the Gulf and West coasts – and indeed, around the world. Although sea levels and severity of damage vary by location, and over time, the global picture is putting coastal communities on notice.
"We see sea level increasing," said Ben Hamlington, a research scientist at NASA's Jet Propulsion Laboratory in Southern California and the leader of the sea-level team. "It will continue into the future. It's something we're going to need to deal with. Good scientists have come to understand that need."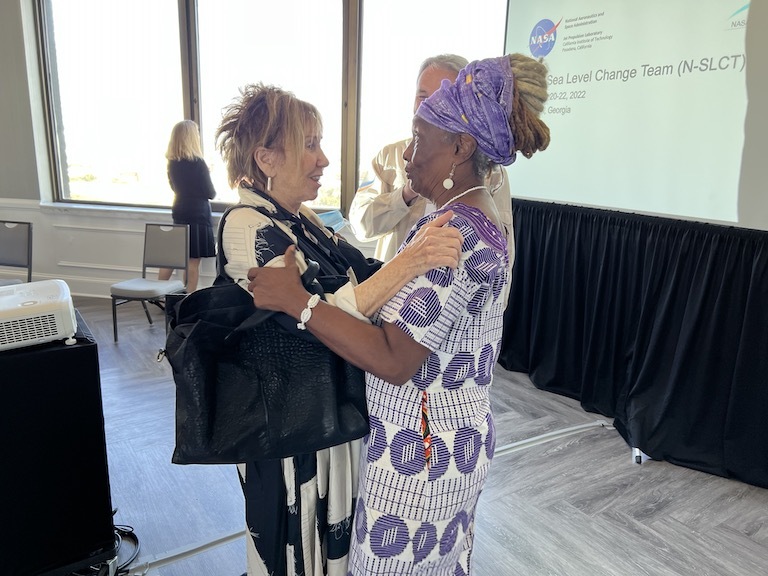 The meeting included summaries of efforts to combat sea-level change in places like Tybee, Savannah, and the surrounding Chatham County. As seasonal flooding becomes more frequent, and often more severe, local officials have learned to work with state and federal agencies, as well as scientists, to plan for changes in infrastructure, storm-water management, and even potential population shifts in response to rising seas.
Alan Robertson, a consultant who manages Tybee Island's "Resiliency Improvement Plan," said he tries to think two or three decades ahead as he prepares for changes to come – including increased flooding frequency and severity.
"We know the issues today: high tide, rain," he said. "Add any sea level rise and it creates certain emergencies."
He encourages island dwellers to take pictures of flooding for "better local data, and to engage residents in a meaningful way."
In Savannah, planners are designing improvements for canal pumps and stormwater storage, said Nick Deffley, the city's director of sustainability. They've begun to collaborate with county officials and with other cities to study regional sea level rise, potential vulnerability, and possible mitigation measures.
Cooperation across states
The city also has installed a network of 62 water-level sensors to help with emergency response and planning. The sensor project included a variety of partner agencies, among them the National Oceanic and Atmospheric Administration, the National Science Foundation, and Georgia Sea Grant.
At the state level, the Georgia Climate Project – involving 11 universities across the state – shares stories and research on threats like sea level rise, and how to reduce its effects. The shared information can increase cooperation across the state.
"We're trying to be more holistic," said Jill Gambill, a University of Georgia faculty member who also is a coastal resilience specialist for Georgia Sea Grant. "We have discussions to engage practitioners and increase coordination."
The cooperative effort mirrors others in communities around the nation, and even a nationwide collaboration: the NASA Sea Level team's Practitioner Consultation Board.
A leading member, David Behar, also is the climate program director for the San Francisco Public Utilities Commission. He described meetings and workshops held with practitioners, made up of "boundary organizations" around the United States – university researchers, experts in coastal resilience, federal scientists, state agencies and others. These organizations straddle the boundary between sea level science and implementation of adaption and mitigation measures on the ground. An upcoming report will detail the most important needs of these organizations and the planners and engineers they work with.

The report says the process of translating scientific findings into information that is usable by practitioners – communities and government officials who must prepare for sea-level change – should be improved.
"Scientific language is often indecipherable," Behar said. "It's hard for practitioners to understand the different reports that come out. It's not a sign of bad science; it's a sign of bad translation."
Some aspects of the increasing cooperation among disparate groups are working well, he said. There is growing acceptance that sea level rise is happening, and connections between scientists and local communities are becoming stronger.
Interactive tools for the public
The scientists themselves also provided details on tools they've created to help planners, and the public, better visualize and understand sea-level changes to come.
Carmen Blackwood, a JPL scientist who leads the NASA Sea Level Portal, described the portal's articles, news briefs and tools – such as the IPCC AR6 Sea Level Projection Tool – designed to be publicly accessible and usable.
Among the biggest concerns that came up repeatedly during the meeting was compound flooding: when two or more factors, such as storm surge combined with sea-level rise, increase flooding height and severity.
Phil Thompson, a member of the NASA team and a sea-level researcher at the University of Hawaii, described a tool that he and his research group recently worked to refine. The "Flooding Days Projection Tool" allows users to choose locations around a map of the U.S. coastline to view projections of the number of days of flooding for future years.
"You can set a threshold, and see how many times per year that's exceeded," Thompson said.
While the meeting participants found that gaps remain between science and on-the-ground planning, the NASA Sea Level Change Team's eight-year effort to advance their science and to make it broadly accessible appears to be paying off.
"Sea level science at NASA is beyond curiosity, but rather linked to the security of nearly half of the world's population," said Nadya Vinogradova Shiffer, director of the NASA team and head of the ocean physics program at NASA Headquarters in Washington. "Direct dialogue between NASA scientists and sea level practitioners ensures effective usage of credible climate information in the global, national, and local efforts to increase resilience of coastal communities to the impacts of rising seas."
Meetings with stakeholders like the one in Savannah, team members said, help inform how science results can be turned into actionable information. Further conversations between the NASA science team and sea level practitioners continue as both work toward a more resilient future.