In brief
Earth cycles water annually between land and ocean, in regional patterns of precipitation and evaporation. Water can remain on land or in groundwater basins temporarily before being released back into the ocean. Human manipulation of the water cycle, such as groundwater withdrawal or storage in reservoirs, can affect sea levels.
---
Land Hydrology
The Earth cycles water annually between land and ocean, in regional patterns of precipitation and evaporation, and this cycle also may be accelerating in response to climate change—with more variability, more flooding and more frequent drought.
Human manipulation of this water cycle, including increasingly high levels of groundwater withdrawal, contributes to sea level rise; the water withdrawn is ultimately reclaimed by the sea. And while the contribution is smaller than that of thermal expansion and melting ice, it is not insignificant.
+ more
Two recent attempts to isolate the sea level contribution of groundwater depletion [Konikow, 2011, Wada et al., 2012] yielded differing ranges, but by averaging the two, the most recent IPCC assessment estimated contributions to global mean sea level of 0.11 millimeters per year from 1901 to 1990, 0.12 from 1971 to 2010, and 0.38 from 1993 to 2010. This compares to the assessment's overall sea-level rise estimate of 1.7 millimeters per year from 1901 to 2010, and 3.2 from 1993 to 2010 [Church and White, 2011].
Sharpening the accuracy of global sea-level rise estimates will require a clearer picture of other land-based influences on water storage and transfer. These include human engineering, such as the construction of reservoirs for water storage or dams to hold water back, which can tip the balance toward water storage on land (though the effects of groundwater depletion now surpass those of reservoir storage, keeping that balance tipped toward the ocean). The potential consequences of groundwater pumping that can raise sea levels by bringing land elevation down, the draining of wetlands and the conversion of habitat types also remain difficult to assess, but hold some of the keys to a more precise characterization of land-based contributions to sea level rise.
As with so many other attempts to capture sea level data, firmly establishing input from the land will depend upon satellite measurements, including gravitational monitoring by the twin GRACE satellites.
---
Gravimetry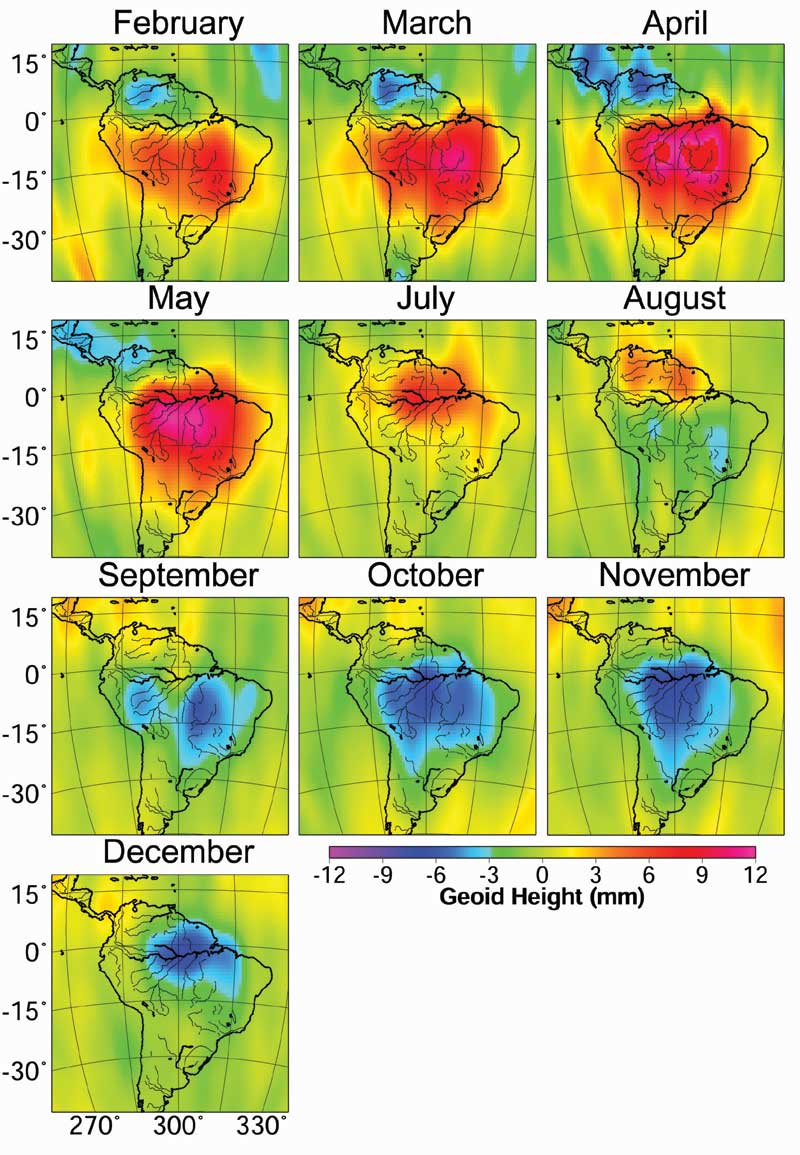 Data from the twin GRACE satellites have been used in many studies of water storage on land and of the exchange of water between land and ocean. One recent study analyzed gravitational trends in groundwater basins, finding that a large fraction of the world's biggest aquifers are rapidly being depleted [Richey et al., 2015].
Another study more directly applicable to global sea level examined yearly changes in water volume in 27 large river basins around the world from 2003 to 2006 [Ramillien et al., 2008]. Among some of the basins with the largest shifts in water volume—the Amazon, Ganges, Mississippi, Nile, Parana and Zambezi—the study's authors found a negative trend in water storage for the three-year period. For all the basins examined, they also found that a net loss of water from terrestrial reservoirs resulted in a net contribution to global sea level rise of about 0.19 millimeters per year.
A third study used GRACE to estimate monthly freshwater discharges from continents, drainage regions and global land surfaces from 2003 to 2005 [Syed et al., 2009]. The authors concluded that their method offered a promising means of monitoring freshwater discharge in near-real time, contributing to global water-mass estimates and improving hydrological modeling.
---
Modeling Land Hydrology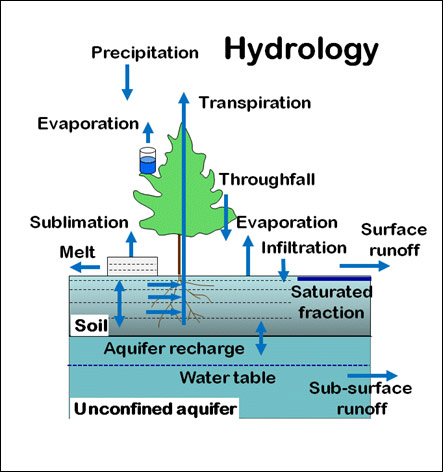 Modelers in recent years have worked to simulate the wide variety of land-surface conditions influencing evapotranspiration and runoff, both key factors in broader climate modeling. And while their efforts have met with some success, challenges remain in accurately predicting annual variations in river discharges, matching soil-moisture trend simulations to observations, and modeling the effects of temperature change on tropical and boreal ecosystems, as well as other land-surface changes [Flato et al., 2013].
A variety of specific land-surface models, for example, were used in one study as inputs for a broader model meant to simulate discharge from 30 of the world's largest rivers [Materia et al., 2010]. The authors reported strong simulations for two of the better developed land surface schemes used as input, though they said simpler schemes were hampered by multiple biases; the broader model, called a hydrology discharge routing model, also showed significant limitations in estimating mean annual river discharge.
+ more
The CMIP 5 models, meanwhile, had difficulty matching up with observations of soil moisture and its effects on precipitation in the tropics and in the Sahel [Flato et al., 2013, Williams et al., 2012,Taylor et al., 2012].
The latest IPCC report commends recent efforts to include agriculture, urbanization and deforestation in Earth System Models, and the effects of such land-use changes on carbon dioxide emissions [Flato et al., 2013]. But again, increasing model complexity led to increasing variation in results among the models [de Noblet-Ducoudre et al., 2012].
---
Microwave Measurements
Long-term alterations in evapotranspiration—the movement of water from the land to the atmosphere—would be a clear sign of an accelerating hydrologic cycle, itself a potential effect of climate change with implications for sea level. One wide-ranging study relied on NASA's long running, recently ended Tropical Rainfall Measuring Mission, which made microwave observations from orbit [Jung et al., 2010]. Combined with ground-based observations, modeling and a machine-learning algorithm, the microwave data provided a likely explanation for evapotranspiration changes on a decadal scale. The study found that yearly global evapotranspiration increased from 1982 to 1997, then plateaued, in concert with the significant El Niño event of 1998. It remained flat until 2008. The microwave data revealed a decrease in soil moisture during the same period, 1998 to 2008, particularly across large areas of Australia, East Africa and South America [Jung et al., 2010]. The study's authors could not, however, determine whether the evapotranspiration changes were the product of short-term climate variability or a longer-term shift in the water cycle.