In brief
Sea water circulation can cause regional sea level differences. Warming, cooling and spatial differences in salinity (saltiness) change sea water density, creating a sloping effect or "pressure gradient" that drives ocean currents. Winds also drive these currents.
---
Ocean Circulation
A naïve view of the global ocean yields the familiar "bathtub" presumption: sea level, like bathtub water, rises and falls uniformly. The reality once again trades large-scale average for small-scale nuance. Globally averaged sea level rises over decades, but regional factors cause far more variability over smaller time and spatial scales.
Among the most significant of these regional influences is the circulation of seawater itself. The interplay of two dominant forcings—density gradients and wind—account for much of this smaller scale variation, pushing sea levels higher in some places and lower in others. The differences in ocean-water density caused by warming or cooling, for example, create density gradients and associated currents. Pressure gradients are most effective as a driving force over longer time scales, wind over shorter time scales.
+ more
Meanwhile, Earth's rotation ensures that gaps over a large enough distance between higher and lower sea level—that is, higher and lower pressure—drive water along a curving path as seen from an earthbound perspective. This distance is called the "baroclinic Rossby radius of deformation," ranging from more than 200 kilometers near the equator to under 10 kilometers at high latitudes. The apparent force that turns winds and ocean currents is known as the "Coriolis effect;" this curvature pushes ocean water in a counter-clockwise direction around high-pressure patches in the northern hemisphere, clockwise around low pressure (and the opposite in the southern hemisphere). The degree of tilt of surfaces of constant pressure is measured against the local horizontal, a manifestation of Earth's gravitational field.
Decades of observation reveal major variation in ocean circulation patterns across the globe from year to year and from decade to decade, bringing notable changes in regional sea levels. Most of these regional changes are associated with changing wind patterns. A useful illustration can be seen in the western Pacific. Easterly trade winds have intensified over two decades, leading to higher, wind-driven sea levels in the western tropical Pacific than in any other ocean region, according to ocean circulation modeling based on altimeter and tide-gauge data. Those levels were found to be about three times the global average—close to 10 millimeters per year [Merrifield and Maltrud, 2011].
Most changes in density are driven by temperature—or thermosteric—fluctuations, and some by increased or decreased salt content, or halosteric change; in fact, the two are often linked. For the latter half of the 20th century, the data show that these "steric" influences shift in rhythm with regional climatic effects, such as the El Niño-Southern Oscillation, demonstrating that the ocean and atmosphere are really a coupled system [Church et al., 2013].
---
Satellite Gravimetry
The advent of gravimetric measurements with the twin GRACE satellites in 2002, along with more recent deployment of floating Argo sensors, opened the way to "closure" of the sea level budget—that is, when the sum of observed ocean mass and density changes equals total sea level change [Leuliette and Willis, 2011].
GRACE measures changes in water mass, including terrestrial storage in the form of groundwater, rivers, snow and ice, and mass changes within the ocean itself, as well as the movement of water between land and ocean.
Early attempts did not achieve closure of the sea level budget for four-year trend lines [Willis et al., 2008, Chang et al., 2010], leading to concerns about possible instrument drift. More recent efforts, however, led to reports of closure for more extended periods, including a NOAA report covering 2005 to 2013 ("The Budget of Recent Global Sea Level Rise, 2005-2013," by Eric Leuliette).
+ more
To capture changes in water mass accurately, shifts in atmospheric mass must be subtracted from GRACE's gravitational measurements—along with changes in the mass of ocean basins, the lingering rebound effect from the loss of Ice Age glaciers [Tamisiea and Mitrovica, 2011].
One approach to achieving a high-precision dataset is the mass concentration (mascon) method, which breaks up GRACE's gravitational measurements into discrete regions of higher mass. This allows more precise resolution of mass changes in smaller regions than more traditional "harmonic" solutions, which smooth gravitational measurements into a larger whole [Watkins et al., 2015].
---
The ENSO Factor: El Niño & La Niña
The ENSO Factor: El Niño & La Niña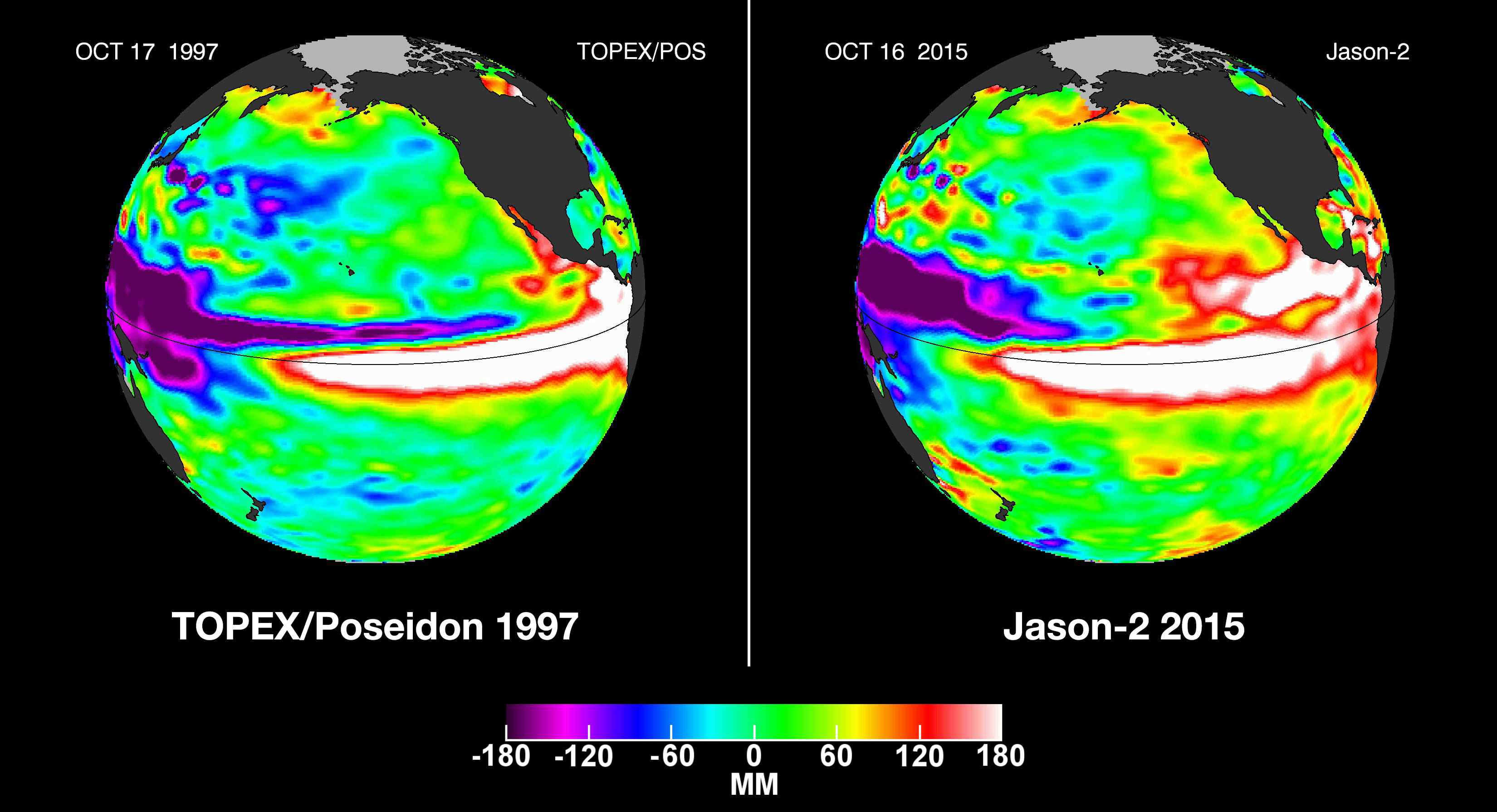 Climatic influences over shorter timescales also modulate regional sea-level trends. One of the strongest of these signals comes from the El Niño Southern Oscillation, the alternating warmer and cooler phases of the tropical eastern Pacific. This regional climatic phenomenon can bring sharp swings in global sea level, though these appear only on the scale of years to decades; measurements so far do not clearly show a trend over multiple decades.
The key to these sea level effects is water storage on land. The warmer phase, El Niño, can raise sea level because of increased rainfall over the oceans; the cooler phase, La Niña, can lower sea level because of increased rainfall over land, where the water is temporarily stored before draining back into the sea. These effects are magnified in the tropics [Llovel et al., 2011].
+ more
A compelling example emerges from satellite altimeter and tide-gauge data from early 2010 to mid 2011. A strong La Niña developed during this period, and its timing corresponds to a global mean sea-level drop of five millimeters—despite a background sea level rise of about three millimeters per year during an 18-year satellite altimetry record [Boening et al., 2012].
The increased water storage, in this case, occurred in Australia, northern South America and Southeast Asia, and is closely tied to a shift from El Niño to La Niña conditions. This temporary transfer of water mass could not, however, ultimately overcome the long-term trend of rising sea level caused by melting ice and warming, expanding oceans. Global mean sea level rebounded quickly after the La Niña event was over.
---
Modeling Climate
Comparing suites of models, not just with observations but also with one another, can illuminate areas of uncertainty within individual models as well as more broadly, across multiple simulations.
Earth System Models (ESMs) numerically model the atmosphere, oceans, land and sea ice, and have biogeochemical components (for example, dynamic global vegetation models) to study the carbon cycle. Earth System Models of Intermediate Complexity (EMICs) use simpler physics or coarser resolution [Flato et al., 2013, Flato, 2011] to focus on selected processes.
One major contributor to global sea-level rise, the transfer of land ice mass to oceans via melting, remains difficult to model. ESMs with ice-sheet coupling capability do exist, but were not used in the most recent CMIP series, known as CMIP 5.
---
Modeling Oceans
Since the ocean absorbs heat and carbon dioxide from the atmosphere, the ocean component of ESMs is essential to form a complete climate picture. The ESMs used in this latest series, however, include ocean components with too coarse a resolution (on the order of 100 kilometers) to resolve "mesoscale" eddies—the whirling ocean equivalent of atmospheric storms. These features, occurring on 50 to 200 kilometer length scales, carry heat and nutrients. Such eddies, for example, are responsible for much of the meridional (north-south) heat transport across the Antarctic circumpolar current. The features are modeled with conceptual approximations, or "parameterized," in current ESMs, which is less accurate than resolving them directly with mathematical representations. Nonetheless, the ocean model components of the ESMs do a reasonable job of reproducing observed sea surface temperature (SST), although with a cold bias, and with smaller errors in the tropical regions. These models' "mean dynamic topography"—the height of the ocean surface above a horizontal surface at rest—correlate at the 95 percent level with observations. Another feature of ocean models is the amount of heat they gain from their numerically represented atmospheres. Older ESMs (labeled CMIP 3) that failed to include volcanic eruptions absorbed too much heat. But the ocean heat uptake of current CMIP 5 models, which include volcanic injections into the atmosphere, is more in line with observations—or as Flato et al (2013) state, "There is high confidence that many CMIP5 models reproduce the observed increase in ocean heat content since 1960."
+ more
Adding volcanic effects to the modeling, however, could introduce a negative bias in thermosteric sea level rise using the standard atmospheric-ocean general circulation models [Gregory et al., 2013]. Because these were used in the CMIP 5 series, Church et al. [Church et al., 2013] recommended adding 0.1 millimeter per year to the models' mean rate of sea-level rise due to thermal expansion between 1971-2010. That brought the modeled rate close to the observed rate, though with a statistically non-significant excess for 1993-2010 [Flato et al., 2013].