In brief
Ice melt: the loss of ice mass in response to warming. Ice loss near the poles from glaciers and ice sheets is one of the most significant contributions to global sea level rise; the largest single source is Greenland, with the island's losses increasing by the decade.
---
Gravity's Fingerprints
The masses of ice around Earth's poles exert their own gravitational pull—one that can alter the mass balance of the oceans. These gravitational changes have come to be known as sea level "fingerprints," a particularly apt analogy. Their effects on sea level present a profile similar to that of a finger pressed into a pliant surface: a kind of cratering, with lower sea level at the center, higher sea level at the edges. The melting of ice sheets and glaciers leaves behind a gravitational hollow of lowered sea level, as the water that had been pulled toward the ice mass, no longer captive to its gravitational attraction, migrates away; meanwhile, the additional water mass transferred from the melting ice to the ocean will, at a sufficient distance, raise sea levels. Maps of these variations even look a bit like a fingerprint, with concentric, irregular curves.
+ more
A total meltdown of the massive ice sheets, such as those in East or West Antarctica, would warp the ocean surface at a global scale [Gomez et al., 2010]. But even the more moderate, regional effects of real-world melting are significant and measurable. The melting of specific ice sheets or glaciers, in fact, exhibits distinctive patterns of geographic variation in sea level; the original source of the melt-water, in other words, leaves a unique gravitational fingerprint [Mitrovica et al., 2011], allowing it to be identified much as a detective identifies the fingerprints of a criminal.
One study that relied on GRACE measurements of ice loss for the planet's three largest ocean-altering ice masses—the Greenland and Antarctic ice sheets, and Alaskan glaciers—sought to compute their combined effects on relative sea levels over the nine-year period, 2000 to 2008 [Bamber et al., 2010]. The study, which considered gravitational changes (as well as some other effects, such as the rotation of Earth) showed that sea levels were driven highest in the Pacific and Indian oceans between about 20 degrees north latitude and 40 degrees south: a rise of 1.6 millimeters per year, or about 23 percent above the global "eustatic" mean sea level for the period of 1.4 millimeters per year (excluding other glaciers and thermal expansion). The lowest sea level rise with combined contributions from all three sources was Northern Europe's 0.8 millimeters per year, about 45 percent below the global mean.
That would place Micronesia, the Solomon and Marshal Islands, the Maldives and small atolls, among other locations, in the zone of highest relative sea level rise; the same area has seen its sea level driven higher by thermal expansion as well.
The study also mapped gravitationally based, regional sea-level variations for the same nine-year period, linked to individual ice-mass contributions from each of the three large sources.
---
Gravimetry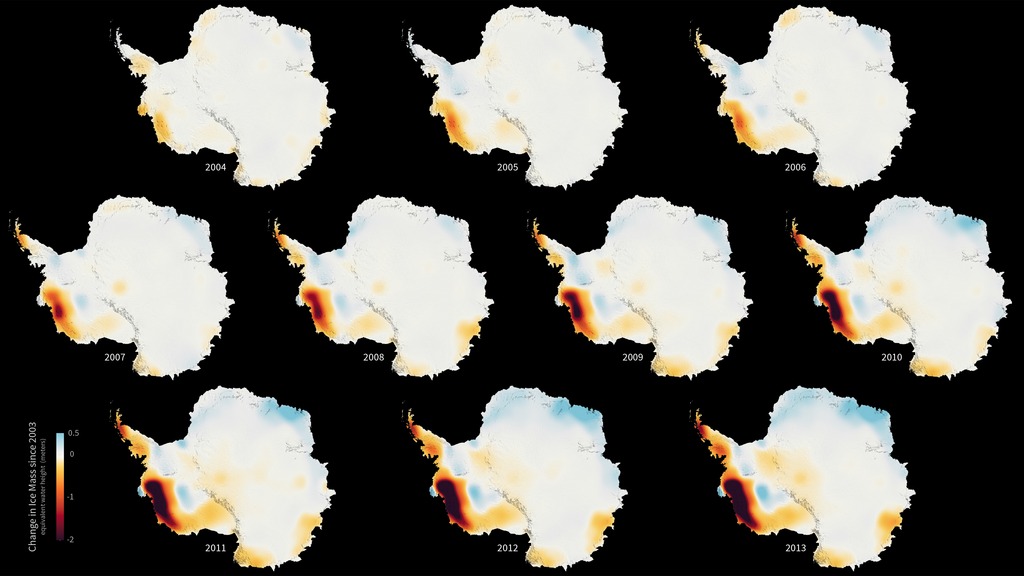 While radar altimeters measure ice height, the ability of instruments like GRACE to capture gravitational shifts provides a direct means to measure ice mass change and hence another important tool in the quest to understand how varying forces affect glacial mass balance. Longer time-series measurements since GRACE's launch in 2002—as well as more robust signals because of increased ice loss—also have substantially reduced uncertainties [Vaughan et al., 2013].
Changes over time in ice mass, and hence gravity, allowed GRACE to detect ice loss trends in the Greenland and Antarctic ice sheets within a few years of launch [Velicogna et al., 2014] with a spatial resolution of 300 kilometers (see Velicogna et al. for a discussion of the accuracy of this technique).
Later, GRACE data were combined with those yielded by other methods, including laser altimeter measurements from ICESat, to reveal a discrepancy between space and ground-based measurements of glacial mass loss [Gardner et al., 2013].
---
Glaciers & Ice Caps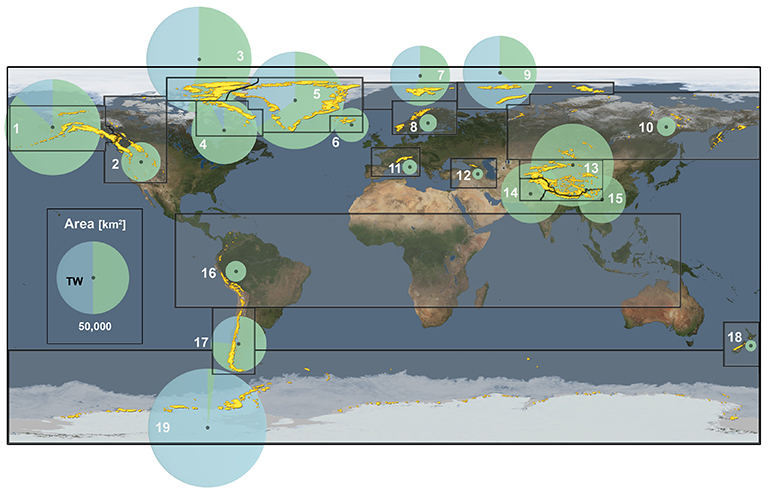 Measurement of the Earth's many glaciers and ice caps—smaller ice masses that are not a part of the Greenland or Antarctic ice sheets— show accelerated retreat. Together, they also account for about a third of the present sea level rise planet-wide (between 2.6 and 2.9 millimeters per year over at least the past 20 years). That places these smaller ice masses in the top three contributors to sea level rise, along with the warming of ocean water, which causes it to increase in volume, and the melting of the great ice sheets of Greenland and Antarctica. The largest losses are from Arctic Canada, Alaska and coastal Greenland, but with significant contributions from other regions, such as the Andes in southern Chile, Argentina or the Himalayas [Gardner et al., 2013].
+ more
Yet here, too, we encounter unexpected nuance as we move from bigger to smaller scales. While these smaller ice masses will remain among the dominant contributors to sea level rise through the next two centuries, their contribution likely drops to insignificance beyond the 200-year mark. Despite their outsized effects at present, glaciers and ice caps represent only about one percent of the Earth's ice total (about 0.7 millimeters of equivalent sea level rise per year). So, once they are depleted, the great ice sheets become the overwhelmingly dominant contributors to ice loss.
Even if we confine our consideration to present-day losses, however, counter-intuitive findings emerge from broader statistical trends. The same research effort [Gardner et al., 2013] matched ground-based measurements of glacial retreat, and the corresponding contribution to sea level rise, with satellite measurements. While the researchers found that the individual glacial losses seen from the ground did indeed match those seen from orbit, they also revealed an unforeseen discrepancy. Estimates of total glacier-related ice loss, extrapolated from ground measurements, overstated those losses by a substantial margin.
The traditional method of measuring glacial retreat involves the yearly placement of marked poles in about 300 glaciers worldwide, tracking ice depletion over decades. Those measurements are used to extrapolate similar effects for the world's entire complement of glaciers, some 160,000. For the period covered by the study—2003 to 2009, when both satellite and ground measurements were available for comparison—the ground-based method, known as the Randolph Glacier Inventory, yielded an estimated ice loss of 329 gigatons per year, plus or minus 121 [Gardner et al., 2013].
But the satellite observations offered a far different figure: 259 gigatons per year, plus or minus 28. That number was derived from data from two types of satellites, GRACE and ICESat.
Although the researchers did not fully investigate the reason for the discrepancy, they raised the possibility that the glaciers that were more easily accessible for ground measurements, at lower elevations, also happen to be melting the fastest—thus biasing extrapolations of total ice loss.
Another subtlety that must be accounted for involves feedback systems that, in some cases, amplify the warming and melting effects. The 2009 eruption of an Alaskan volcano, Mt. Redoubt, spread enough ash to darken area glaciers. Darker snow and ice absorbs more solar radiation, which accelerates melt. And indeed, the glacial ice-melt accelerated. [Arendt et al., 2013].